We found another "bad grandpa" type to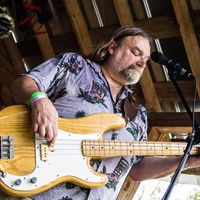 join us on our periodic "breakouts" from the "Happy Meadows" Nursing Home and Rehabilitation Center for the Aged and Falling Apart, to take the music of our generation out in public!
The crusty old fart's our new Purveyor of Punch, The Key Master of the Bottom End... Please welcome Mr. Billy D Bumpin' Bottom!
We've been on a two week lock down here at the home. Somebody's dentures evidently took a stroll to the big aquarium, and it took the maintenance guys awhile to notice the odd smile on the big catfish that hangs at the bottom of the tank.
I say it all started with Mrs Bennet's corset up the flag pole again last spring, and has escalated ever since... but what do I know....
At any rate, security has started to ease up and looks like we'll be bustin' outta here to play Next Saturday night at Shelby Jean's in Carolina Beach! Come join us!!